We are happy to announce this course in Rangdrolling Amsterdam with instructions on the practice of Dzogchen, and overcoming obstacles and distracting states that arise during the practice of contemplation.
There are a few updates!
The course will start on Wednesday evening August 24th, 2022, 19:00, with an open lecture introducing Dzogchen and the course; and continue till Sunday August 28th. For the time schedule see below.
Suggested donations are listed below. If you only attend the Wednesday evening you can donate any amount you feel is appropriate. Thank you!
Click here to register for this course.
In the course Elías Capriles will present his book: The Source of Danger is Fear: Paradoxes from the realm of delusion and instructions on the practice of the Dzogchen Upadeshavarga.
The book was written after a retreat period of Dzogchen Practice based on the instructions given mainly by Dungse Thinle Norbu Rinpoche and later also by H.H. Dudjom Rinpoche.
In this book Elías gives advice on how, through the practice of Dzogchen contemplation, we can release the knots in which we tie ourselves, states in which relaxation and presence are hindered.
Update: We re-printed the book. Elías has updated it and it has been prepared for printing. The books have arrived and they are beautiful! You can buy it during the course and we will also send it to your address in Europe. Note that following at least one of the courses is required for buying the book.
We will practice Semdzins and Rushens together during the course.
At the bottom of this page, you can find much more information about the book, and an extended biography of Elías Capriles.
This course is meant for people who have received Dzogchen Transmission from a qualified Dzogchen teacher, or who have a serious intention to receive Dzogchen Transmission from one.
You can attend the course live or via zoom.
This course is presented in collaboration with Dargyäling Cologne, who will host a companion course from August 18th till August 21th, 2022. Please send an e-mail to kurs@dzogchen.de to receive information on the course in Cologne.
Dates and Times (small changes in the time schedule are possible, they will be updated here)
Times are in Central European Summer Time, UTC+2:00 (Amsterdam, Paris, Rome).
Wednesday evening August 24 2022, 19:00 till 20:30 with space for questions afterwards,
Update: The Wednesday evening session will be an open lecture introducing Dzogchen and this course, for the general public.
Thursday August 25 till Sunday August 28 2022, 10:30-12:30 and 15:00 till 17:00.
Location
Rangdrolling, Amsterdam
Nemoland / De Groene Hemel
Address: Overbrakerpad 2, Amsterdam.
The course will also be broadcast via zoom. Please register to receive the link.
Contribution Fees (note: these are suggested donations, see below)
If you only attend the Wednesday evening, you can donate any amount you find appropriate. The below amounts are for the whole course.
Non-member of the International Dzogchen Community: 150€
Meritorious member of the International Dzogchen Community: 50€
Sustaining member of the International Dzogchen Community: 90€
Ordinary member of the International Dzogchen Community: 120€
| | | | | |
| --- | --- | --- | --- | --- |
| Daily Contribution Fees | Non-member | Meritorious | Sustaining | Ordinary |
| Price for 1 day | 45€ | 20€ | 30€ | 40€ |
| Price for 2 days | 80€ | 35€ | 50€ | 70€ |
Note, the above contributions are recommended donations. If you can, you are encouraged to donate more. Donating for teaching is a very meritorious action. However if you cannot afford these amounts due to financial limitations or difficulties, a discount is always possible. Please contact us and we will look at this together with you.
Payment
Bank details:
IBAN: NL72 INGB 0006 0658 80
BIC: INGBNL2A
In name of: Int. Dzogchen Community of Rangdrolling
With mention: Elías Capriles Course 2022
PayPal: info@dzogchen.nl
With mention: Elías Capriles Course 2022
Click here to register for this course.
If you have any questions, e-mail Rangdrolling Amsterdam info@rangdrolling.nl .
May it benefit all!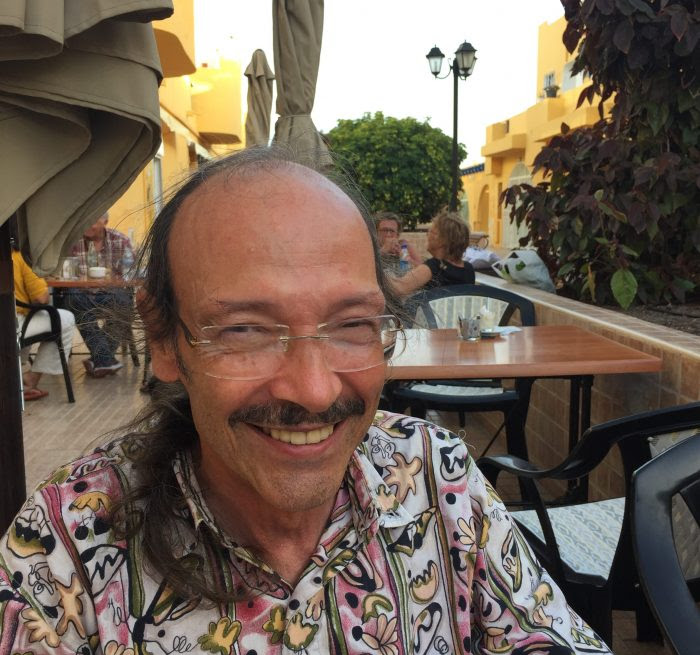 Biography of Elías Capriles
Elías Capriles is a Santi Maha Sangha Teacher appointed by Chögyal Namkhai Norbu,
whom he met in 1978 in Boudhanath. He practiced Dzogchen in successive strict 3
months retreats on the Himalayas between 1977 and the end of 1982, after receiving
Trekchö (Khregs chod) instructions from H.H. Dudjom Rinpoche and Dungse Thinle
Norbu Rinpoche. He also received teachings and transmissions from H.H. Dilgo
Khyentse, Dodrub Chen Rinpoche, Chatral Rinpoche and Pema Norbu Rinpoche.
As a whole, he has had twenty books published, as well as five Internet books, over
forty academic papers and twelve book chapters, dealing with Dzogchen and Tibetan
Buddhism; transpersonal psychology; ontology; philosophy of history; aesthetics;
political philosophy; epistemology; sociology; axiology, etc. Various of these are on
Buddhism and Dzogchen (including a poetry work) and Buddhist philosophy (it is
relevant to mention an as yet unachieved work called Buddhism and Dzogchen — Vol.
I: Buddhism that is freely available on the Web).
He is retired from the Chair of Eastern Studies and the Center for Studies on Africa and
Asia the University of The Andes, Mérida, Venezuela, where he taught Philosophy,
Buddhism, Asian Religions, Globalization and Asian Aesthetics and Arts.
He has offered conferences in many Universities across the Americas, Europe and Asia,
and has also led workshops and courses in many countries.
He managed "spiritual emergency refuges" where "psychotics" would go through the
natural self-healing process in which they unwillingly embarked, and has been an
ecological activist.
He is a member of the Board of the International Transpersonal Association; among his works on this subject, most recent and best known is the four-volume work The Beyond
Mind Papers: Transpersonal and Metatranspersonal Theory (Blue Dolphin, Nevada
City, CA, 2013). His most recent book is Chamanismo y Dzogchen (Barcelona, La
Llave, 2019).
Extensive Information About the Book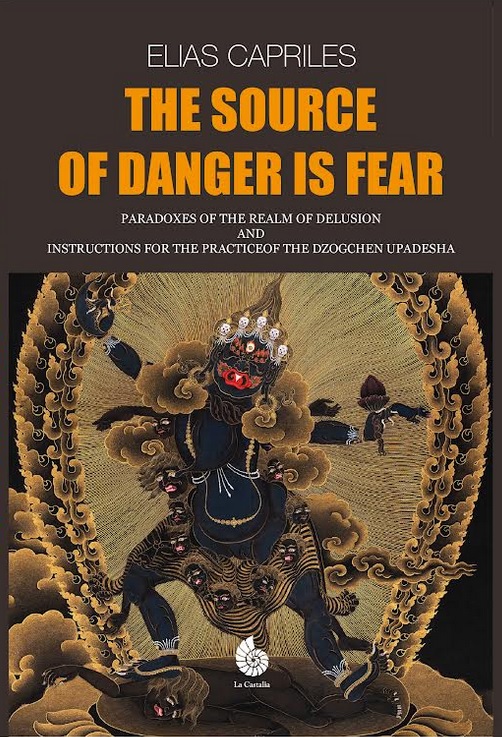 THE SOURCE OF DANGER IS FEAR
Paradoxes of the Realm of Delusion and
Instructions for the Practice of the Dzogchen Upadesha
The book starts with an extensive 40-page introduction, treating subjects central to the Dzogchen Teachings. Then it continues to describe knots and give instructions on Time, Pleasure and Pain, Boredom, Desire, 'Fear, Insecurity, Suffering and Refuge', Tension, Contemplation and Uptight Mindfulness, Meaning, Purification, etc.
(For a full list, see the table of contents below.)
Here are some comments by Elías on the origin and contents of the book and how it was approved by Rinpoche, a text from the cover of the book that gives more background, and the complete table of contents.
Elías about the book:
This is a book that describes the knots in which we tie ourselves up, creating tensions, anguish and suffering—yet it also shows how the knot may untie itself if we perform a simple action, comparable to pulling the end thread of a lace. In fact, it describes the knots in which I tied myself and the instructions that came to my mind when I was practicing in intense retreats in the Yölmo area in Nepal and up the mountain from there.
When I lost that book, I asked a girl who is British and who had a copy to send it to me. I was surprised when I received it from the hands of ChNN. I used the auspicious coincidence to ask him whether he had found any errors in what he read, and he said "NO". Then I asked him for permission to publish it through the publishers of the DzC in Spanish, which at the time was "Editorial Reflejos", and he said "yes". But then when I began to distribute it, ChNN wrote to me saying I could not distribute it that way, and that I could only give it to those who have previously received that teaching from me.
(If you have attended a course about the book, you can e-mail dargyaeling@dzogchen.de to order it. We currently only send the book to addresses in Europe, but write anyway so we can keep you informed about future possibilities.)
From the cover:
Elias Capriles studied Dzogchen with some of the greatest lamas of the twentieth century and, after receiving specific Trekchod instructions from Khyabjés Thinley Norbu and Dudjom Yeshe Dorje, did repeated three-months Nyingthik retreats in hermitages and caves in the higher Himalayan range. In 1978 he attended the teachings of Chögyal Namkhai Norbu in Boudhanath and forged a relationship with the Master, who on Elias' invitation visited Venezuela in 1986 and founded the Dzogchen Community there.
Elías received nearly all available Buddhist Dzogchen transmissions from some of the top Masters of the last century, including Kyabjés Dudjom Yeshe Dorje, Dilgo Khyentse, Dodrub Chen, Chatral Sangye Dorje and Padma Norbu, as well as Dzogchen teachings from the first three of the above Masters and personal help from Chatral Sangye Dorje.
During his intensive Trekchod practice in his repeated three-months retreats, in his practice Elías met different apparent knots whereby saṃsāra and the ensuing suffering maintain themselves. This book describes those knots—which it calls "laces˝ because they can be undone by means of a most simple action—followed by the instructions that came to Elías' mind for resolving them, and with the help of which they spontaneously resolved themselves.
Contents:
INTRODUCTION 7
History of the Book 9
Structure of the Dzogchen Path 10
The Base, its Three Aspects and the Three Modes
of Manifestation of Energy 13
The Kāyas as Stages of the Path 24
The Energy Volume Determining the Scope of Awareness 29
Inner Ngöndro, Rushen and Chod 35
Three Types of Avidyā and Three Types of Thought 40
Structure of the Book as it Stands Now 48
The Title of This Book 51
Words in Parentheses 52
Acknowledgements 53
TIME 55
PLEASURE AND PAIN 59
BOREDOM 61
DESIRE 63
FEAR, INSECURITY, SUFFERING AND REFUGE 65
TENSION 75
SELF-IMPORTANCE 84
BLAMING OTHERS 86
HATRED 89
CONTEMPLATION AND UPTIGHT MINDFULNESS 92
SELF-CONSCIOUSNESS 97
DELUSION, DISTRESS AND HERE-NOWNESS 101
LACKING 104
OTHERS, PRIDE AND VALUE 106
FAVORABLE CONDITIONS 109
WORRYING FOR OTHERS 112
ILLNESS AND PAIN 114
Dealing with Pain 116
Contemplation and Illness 118
GOOD AND EVIL 120
MEANING 128
MORALIST TEACHINGS AND RELATIVE PRACTICES 130
ABHOR THE PASSIONS? 135
PURIFICATION 139
OPENING UP 141
UNEASINESS IN MEDITATION 144
BOREDOM IN MEDITATION 149
TOO MANY PASSIONS AND DELUSIONS
IN CONTEMPLATION 151
PROFOUND INSTRUCTIONS 153
PEACEFUL MANDALAS 155
WRATHFUL MANDALAS 157
CONCLUSION 161
APPENDIX 163
SOCIAL LACES 163
ECOLOGY AND SURVIVAL 165
SOCIAL CHANGE 167
NOTES 171